30. Mai 2017
Stripes & Levi's x Skagen Hybrid Smartwatch.
---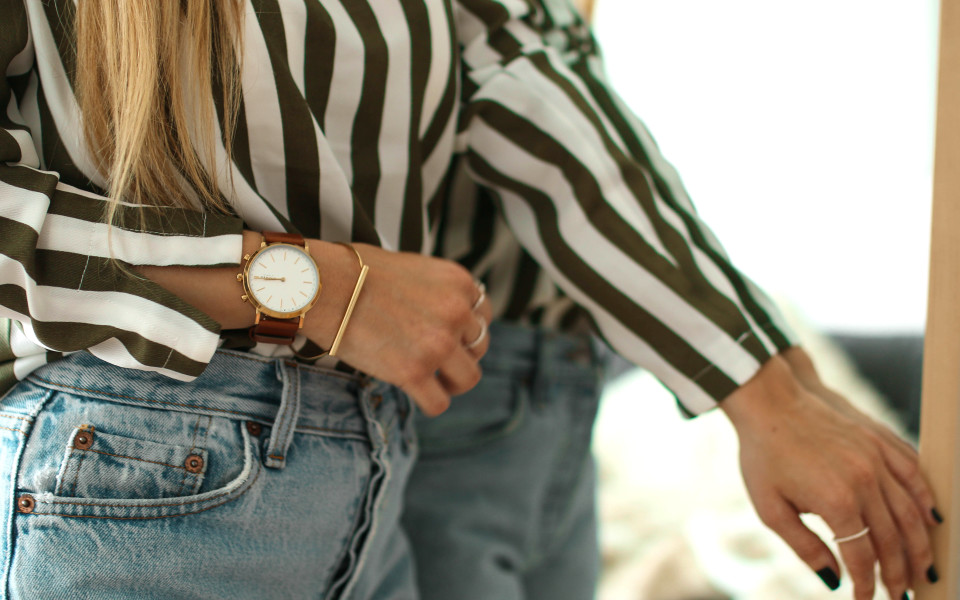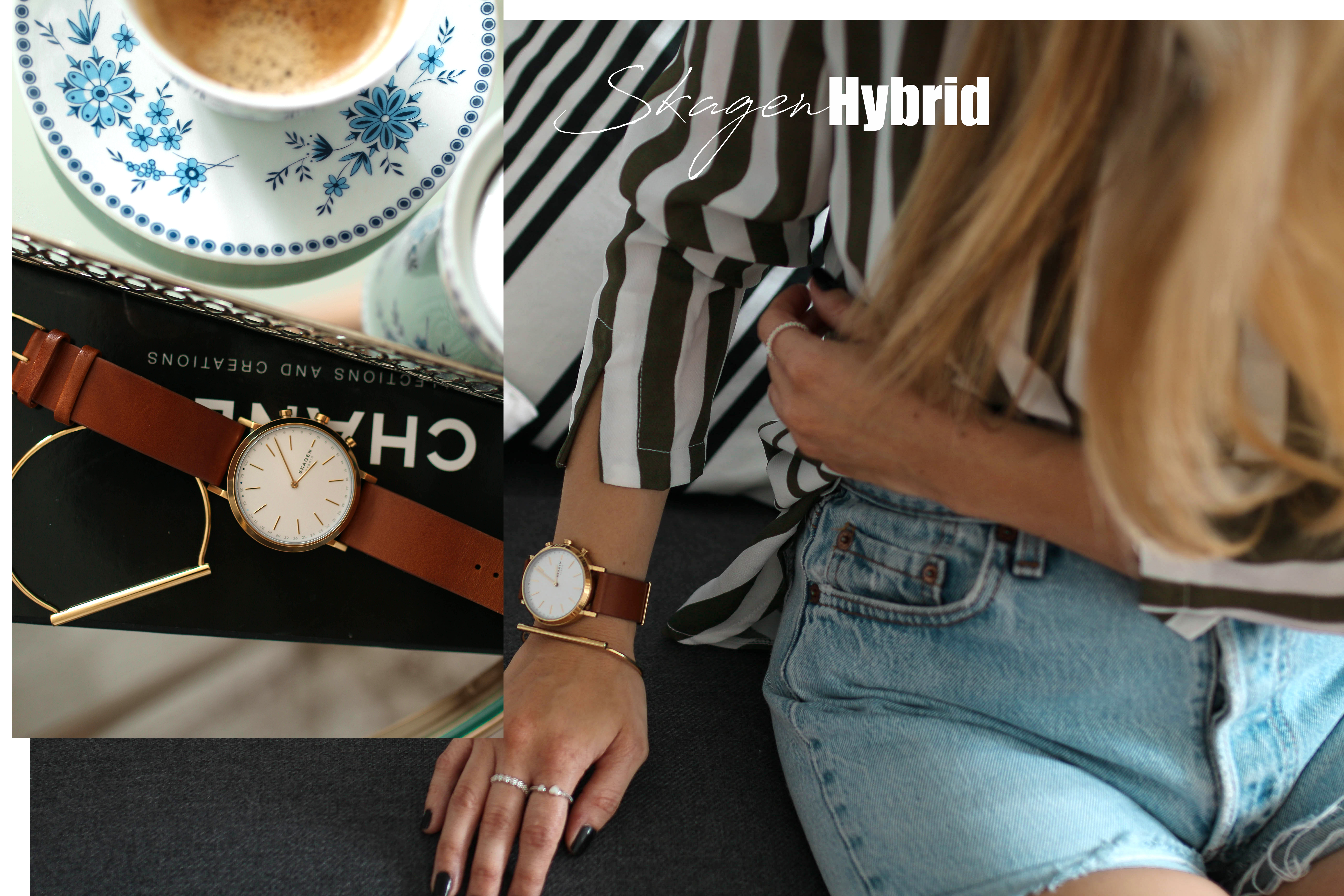 Smartwatches – Heutzutage nicht mehr wegzudenken von den Handgelenken. Allerdings konnten wir uns damit bisher so gar nicht anfreunden! Der Grund dafür liegt auf der Hand, wenn man bedenkt, dass wir als Modeblogger immer den Style berücksichtigen und der Look von Smartwatches einfach viel zu digital und technisch ist. Also könnt ihr euch wohlmöglich vorstellen, wie sehr wir uns über die SKAGEN Hybrid Smartwatch gefreut haben! Äußerlich so hübsch wie eine normale Armbanduhr, innen so SMART wie eine Smartwatch! 🙂 Wenn man sie sich so anschaut, würde man nicht vermuten, was sie alles kann – ihr werdet staunen:

Das Beste zuerst: Man muss die Skagen Hybrid Uhr im Gegensatz zu anderen Smartwatches nicht einmal aufladen, da sie mit einer Standarduhrenbatterie ausgestattet ist und somit mehrere Monate problemlos läuft. Schon mal ein riesen Pluspunkt! Man hat sowieso schon genug Geräte, die man ständig aufladen muss :D. Die Uhr wird super easy über Bluetooth mit eurem Smartphone verbunden.

So werdet ihr z.B. über eingehende Nachrichten, Anrufe oder Mails  durch Display-Benachrichtigungen auf der Uhr informiert. Ständige Blicke aufs Handy werden einem damit erspart und man legt es auch ganz einfach mal zur Seite :).

Unsere Lieblingsfunktion ist das Aktivitäts-Tracking, da wir dieses täglich sehr gerne im Auge behalten, um schon mal einen kleinen, aber dennoch bedeutenden Beitrag zur gesunden Lebensweise zu leisten! Ja, wir weden ja auch nicht jünger :D.

Besonders toll finden wir auch die automatische Zeit- & Datumseinstellung. Wenn man wie wir gerne reist, stellt die Uhr automatisch die richtige Zeitzone ein. Kein lästiges Umstellen mehr! Wir hatten sie bereits in Dubai dabei und fanden es mega praktisch! Man kann sogar mehrere Zeitzonen gleichzeitig im Blick behalten, was total cool ist, da man dadurch z.B. im Ausland direkt sieht, wie viel Uhr es gerade zu Hause ist.

Neben diesen ganzen Hauptfunktionen hat die Skagen Hybrid Watch noch ein paar zusätzliche Funktionen wie z.B. Schlaftracking, Musiksteuerung und eine Fotofunktion, mit der man ganz einfach Handy-Fotos mit der Uhr aufnehmen kann. Damit noch nicht genug, kann man sogar die Bänder der Uhr austauschen! Ahh! Wenn das nicht mal das perfekte Accessoire mit "Brain" ist, oder? 🙂 Kaufen könnt ihr die SKAGEN HALD CONNECTED Hybrid Smartwatch beispielsweise hier bei Zalando. Wir sind nach kurzer Zeit schon riesen Fans geworden und können uns die Uhr gar nicht mehr wegdenken! Was sagt ihr zur neuen Skagen Hybrid Smartwatch? Wir freuen uns wie immer auf eure Kommentare 🙂 Bis bald, xx Su & Chris

//
Smart watches – newest companions in daily life! Well, not for us since we just couldn't accept the digital/technical look of them. 😀 The reason for that is obvious: we always focus on style when it comes to accessories. You can't even imagine how happy we were when getting the new SKAGEN Hybrid Smartwatch. As pretty as a normal watch from the outside, but as smart as a smart watch from the inside! When first seeing the watch we just couldn't imagine how many functions are hidden inside this beauty, you'll be surprised:

Starting with the best – Compared to other smartwatches you don't even need to charge the Skagen Hybrid watch as it is equipped with a standard watch battery. For us it's a huge PLUS because we already have so much other stuff that needs to be charged :D. The watch is easily connected with your smartphone via Bluetooth.

You can be informed about messages, mails or calls through display notices on the watch, so you can say good bye to checking your phone every second minute.

Our fave feature is the activity tracking function since we really like to stay updated with it throughout the day. You can really make a difference with it and contribute to a healthy lifestyle!

Another great feature is the automatic time – & date-update. If you like travelling as much as we do you're gonna love it! You'll never have to worry about adjusting the time on your watch. You can even see different time zones simultaneously which is pretty cool since you can always have an eye on the time in your home country.

Besides all these amazing functions the Skagen Hybrid Smartwatch also has some minor additional functions such as sleep tracking, music controlling and a photo function with which you can take photos on your phone through the watch. Last but not least you can also change the straps! Ahh! Isn't it just the perfect accessory with "brain"? 🙂 You can get the SKAGEN HALD CONNECTED Hybrid Smartwatch here at Zalando. We've already become huge fans of the watch within a short time and couldn't think of living without it now. What do you guys think of the new Skagen Hybrid watch? We're looking forward to your comments! xx Su & Chris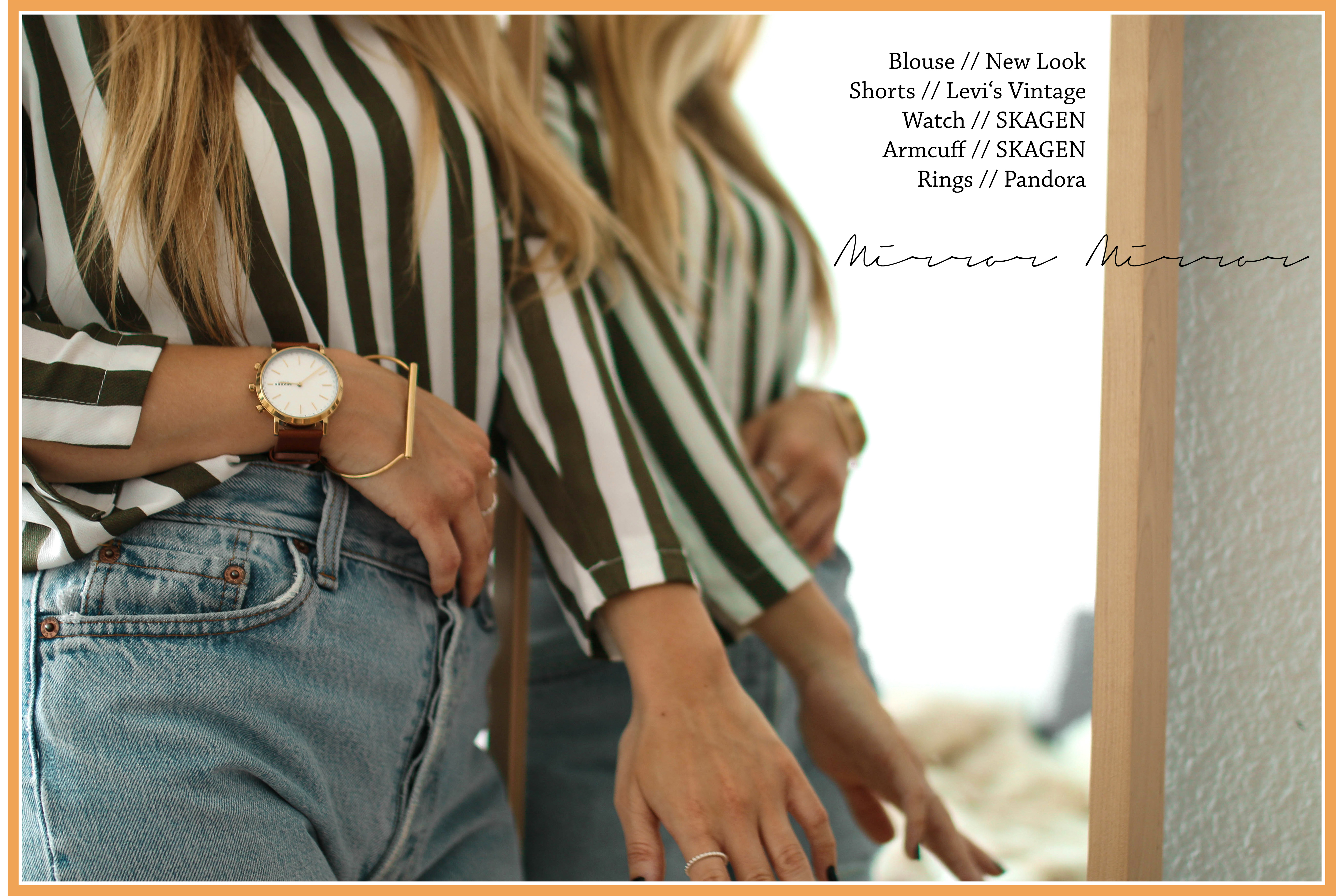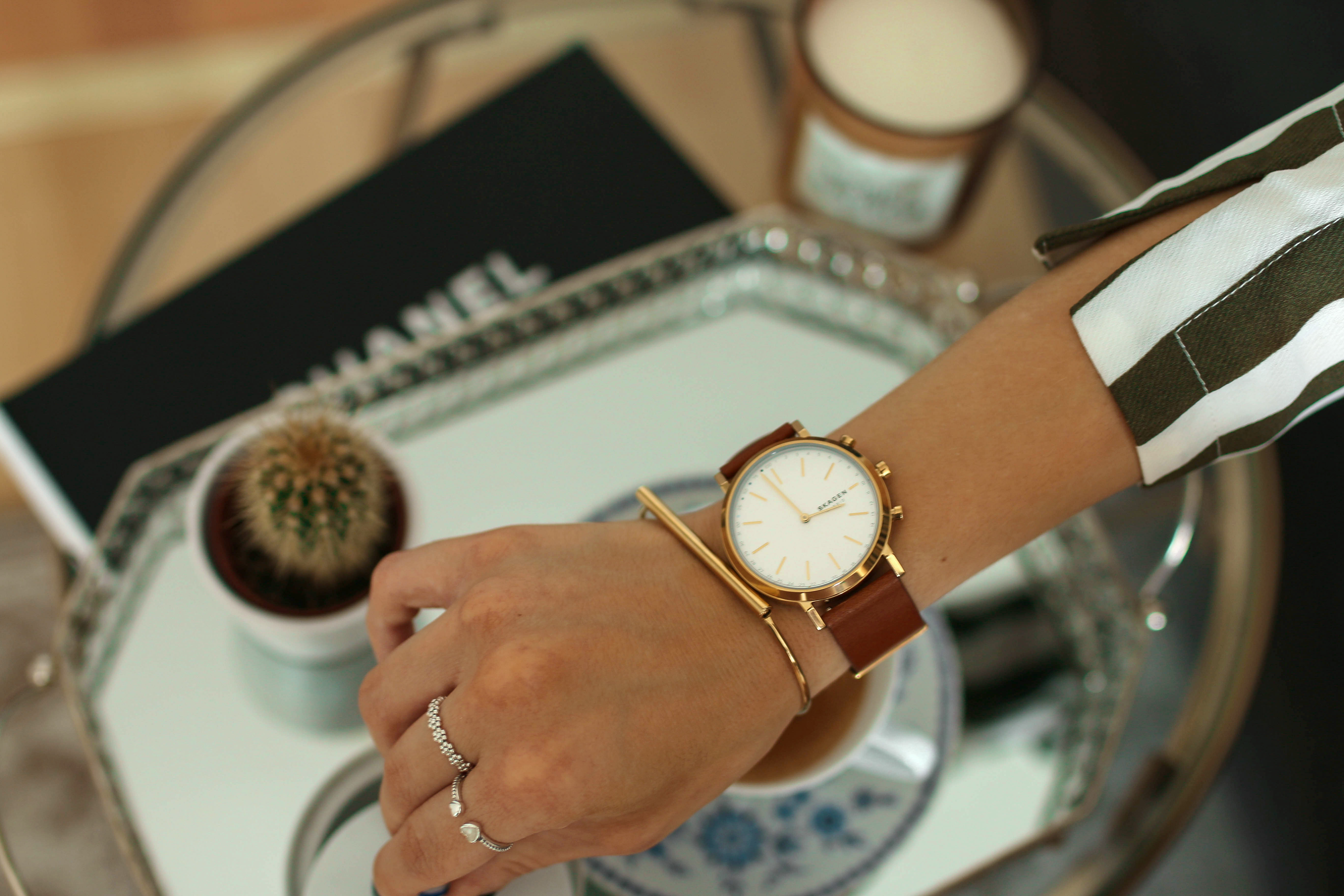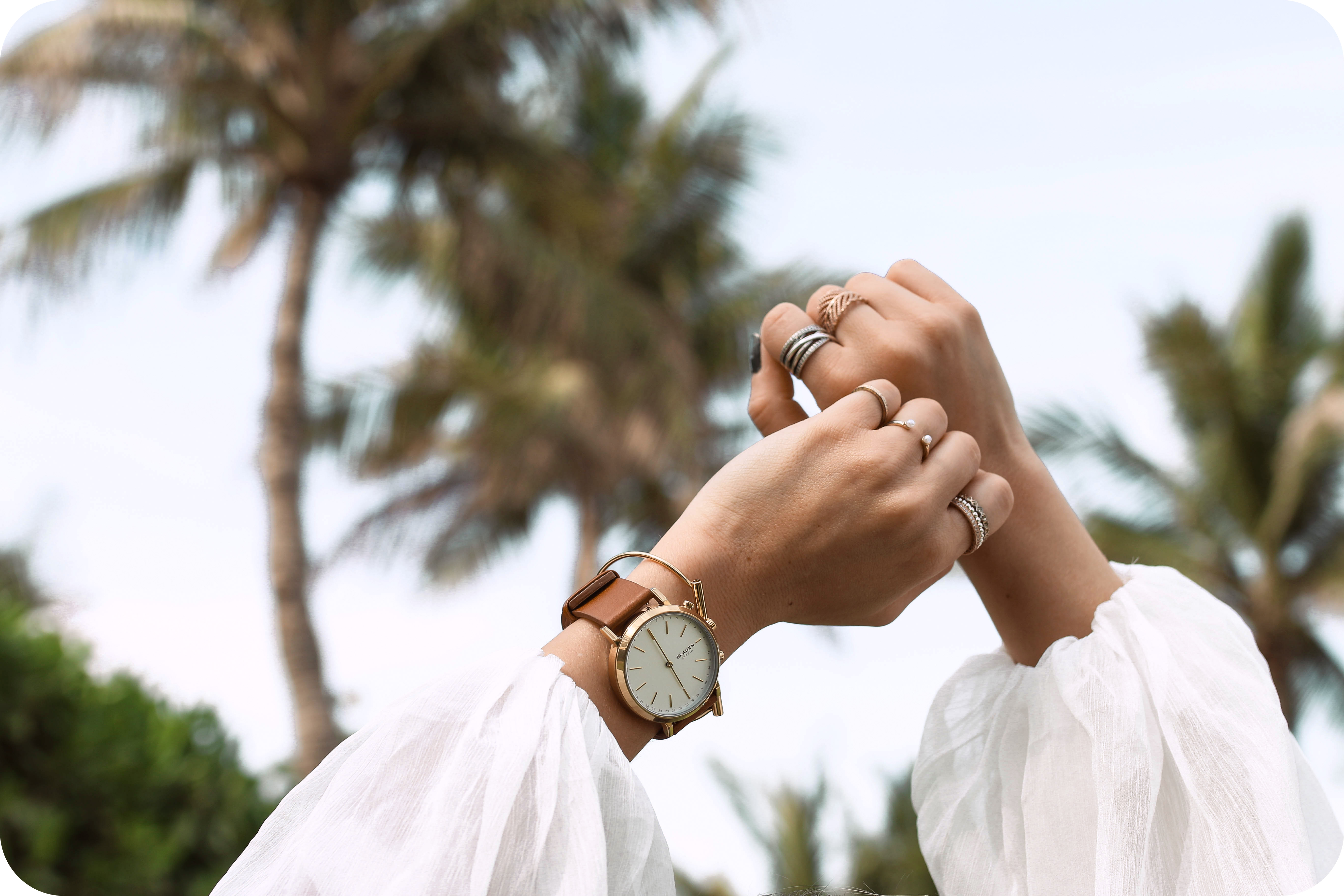 In lovely collaboration w/ Skagen.
Save